Cooperation partners
Students of the Elite Master's Program "Human Biology – Principles of Health and Disease" can take advantage of further teaching and research opportunities by harnessing the additional expertise of external institutes. The following collaboration partners involved in this study program provide students with attractive possibilities to complete their research practical course or their Master's Thesis: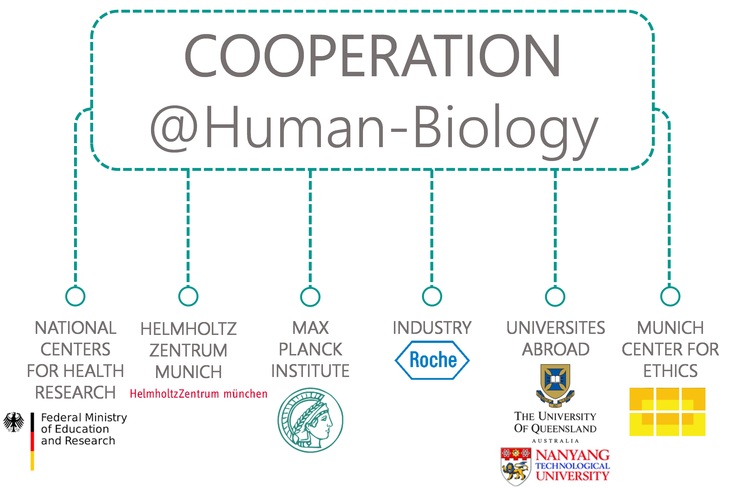 The Max-Planck-Institutes of biochemistry, neurobiology and psychiatry,The HelmholtzZentrum Munich (Institute of Epigenetics and Stem Cells, Comprehensive Pneumology Center) and all five German Centers for Health Research established by the German Federal Ministry for Education and Research (BMBF). These are: The German Cancer Consortium, the German Center for Cardiovascular Disease, the German Center for Infection Research, the German Center for Lung Research and the German Center forNeurodegenerative Diseases.
Within the cutting-edge Elite Master's Program, in which students deal with new therapeutic approaches and techniques, knowledge and understanding of "Ethics" is an indispensable component. Through the participation of the "Munich Center for Ethics", LMU students will gain awareness of the importance of social and ethical issues for responsible research.
In addition to the research institutes at home, students have the option to take a practical course or do their Master's Thesis abroad, for instance at our partners in Australia at the "University of Queensland (UQ)" or in Singapore at "Nanyang Technological University (NTU)".
Next to the academic research the Elite-Programme integrates also the industrial research. Our partner "Roche Diagnostics" is one of the most major pharmaceutical company worldwide, based at Penzberg in Bavaria.